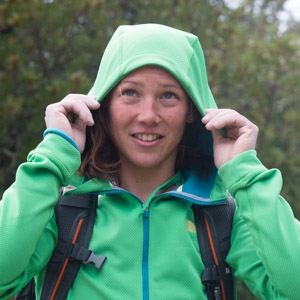 First and foremost, Caroline is French!  Nobody should ever forget that! Caroline grew on the tiny island of La Reunion, a dot on the map in the South Indian Ocean. Caro discovered climbing aged 12, at school, and quickly became obsessed by the competition world.  For 10 years she focused on the Lead World Cup Circuit, training hard, traveling the world, but climbing mostly indoor. After realising her dreams of competition, she has redirected her motivation towards outdoor climbing, and now loves to give herself challenges in Trad, Sport, Multi-pitch. Outdoor climbing is , as she often says, her "second life "as a climber.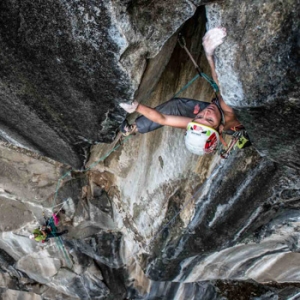 Sport climbing is as much a part of Carolines past as competitions.  This style of climbing defined who she was for over 10 years, and developed the skills she uses so much today.  On-Sight is where her heart lies, but she's not against trying something hard from time to time, provided it doesn't take too many days.
Mind Control 8c+, Spain
Aaron 8c, Turkey
Souvenir du Pic 8c, France
Métaphysique des Tubes 8c, Seynes
Guerre d'usure 8c, France
Les Mur des Cyclopes 8b On-Sight, France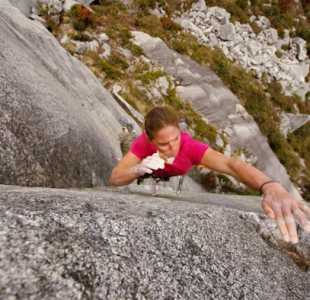 Caroline began Trad climbing less than 3 years ago, but in that short time she has proved herself one of the very best female Trad climbers in the world!  She has climbed routes in all styles, from steep multi-pitch to slabby single pitch, and is one of the few females in the world to have climbed E9!
Chupacabra E9, Pembrokeshire
Chicama E9, Angelsey
Point Blank E8, Pembrokeshire
The Jackals E8, Pembrokeshire
Toploader E7, The Peak District
Yucan2 E7, Nescliffe
Hindenburg E7, Pembroke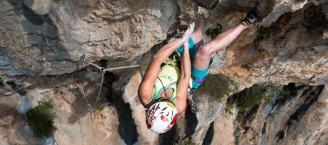 Multipitch is a new world for Caro!  What started as a curiosity has become an obsession, and is the perfect way to combine her two climbing lives.  Multipitch sport climbing is the perfect combination of physical exertion, with mental adventure, and there is no nowhere she feels more free!
Bouldering is something of a new world for Caroline, but the more I throw her into the deep-end, the quicker she seems to learn to swim.  Its amazing watching her progress as her understanding of the sport grows.
However, there are a few times she still misses the point…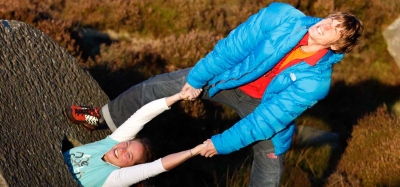 To read more about Caroline, click on one of her stories below…