I first set my eyes on the archipelago in September. It was just after we came back Reunion Island, and I was searching for inspiration for a new trip. I googled "sea cliff  images" and I fell on these pictures from Tommy Schultz: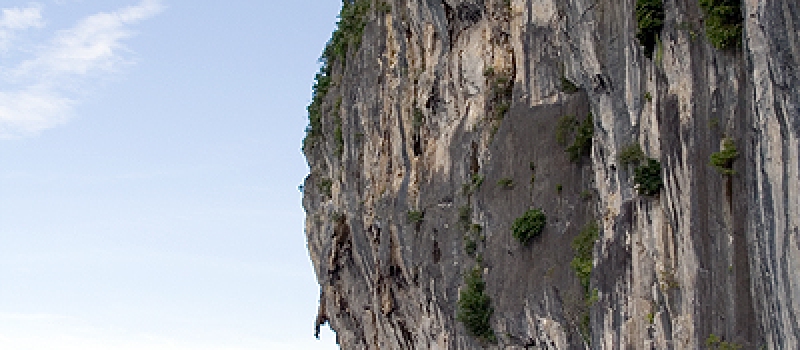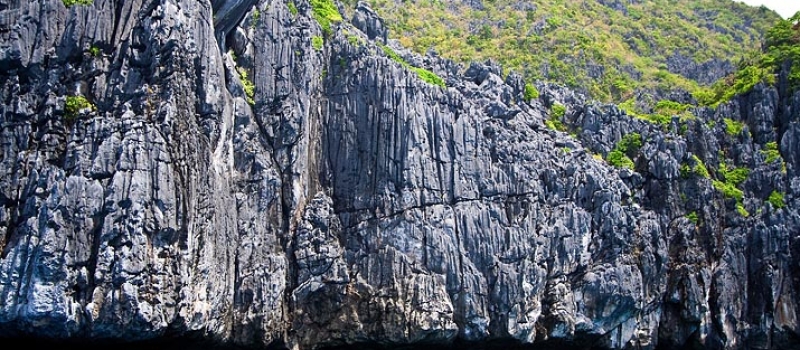 Have you ever heard of climbing in the Philippines? I hadn't. Fare enough. In September, if you searched for "threats" in Philippines, you could read all about tsunamis, typhoons, terrorists, malaria, volcanos… Philippines isn't quite like Thailand yet.
But I have Asian origins, and I have been there when I was a little girl. All I can remember is the colour of the water.  I was keen to discover more so I started to search for local climbers. There are not many of them out there,  but I was lucky and one day met Ina. (I hope you'll come to meet us Ina!!!!)
Then Haiyan struck, and all seemed lost!
I thought that was it –  who would go in a country that has been devastated, to see sad people, fallen buildings, the broken remains of a paradise lost!  But then I remembered about Thailand.  I climbed in Tonsai 2 years ago and the local people told me that the very worst thing after the Tsunami was the absence of tourists. With no income from travellers, the economy struggled, and the reconstruction became more difficult than ever.
So we are going. It has become a reason to go. You don't turn your head when you see a man in trouble in the street. You look at him, you acknowledge him. You smile, and most likely, he will smile back at you.  We can't do much, we are not doctors, we can't help the people directly.  But what we can do is to bring positive news, and good feelings back from this amazing place, and spread these around our little world.
The Philippines are still there, and I am hoping we will find happy people. I am hoping we will find amazing deep water soloing, and fun trad routes on the cliffs. Maybe, maybe not. But we will certainly find adventure.
Most of all, I would like to invite any local climber keen to join us on our last week there ( 3rd of March until the 9th). I don't promise anything big, just some fun climbing together. We will be around Palawan, El nido or Coron Island.  Keep following this website and our Facebook page for updated information.
Finally, if anyone out there has useful information for us, don't hesitate to get in contact!!!
here is the planning so far:
Planning :
15/02 : arrival in Manila   slide show at the manila TNF shop (accommodation organised by TNF)
16-17/02 : flight to Porto princessa + land trip to el nido
18/02-1/03 : el nido kayak taken at el nido resort   (12 days of camping and canoe)
2-3/03 : transfer to coron
4-8 : coron kayak and camping
9/02 fight back to manila
10/02 : flight home
See you all soon,
Caroline and James