Let's go really big: Enniberg in the Feroe, 754 meters, highest sea cliff of Europe?
Pics are from Will Lascelles/Colab creative, or Cedar Wright, or Caroline
Text is from Caroline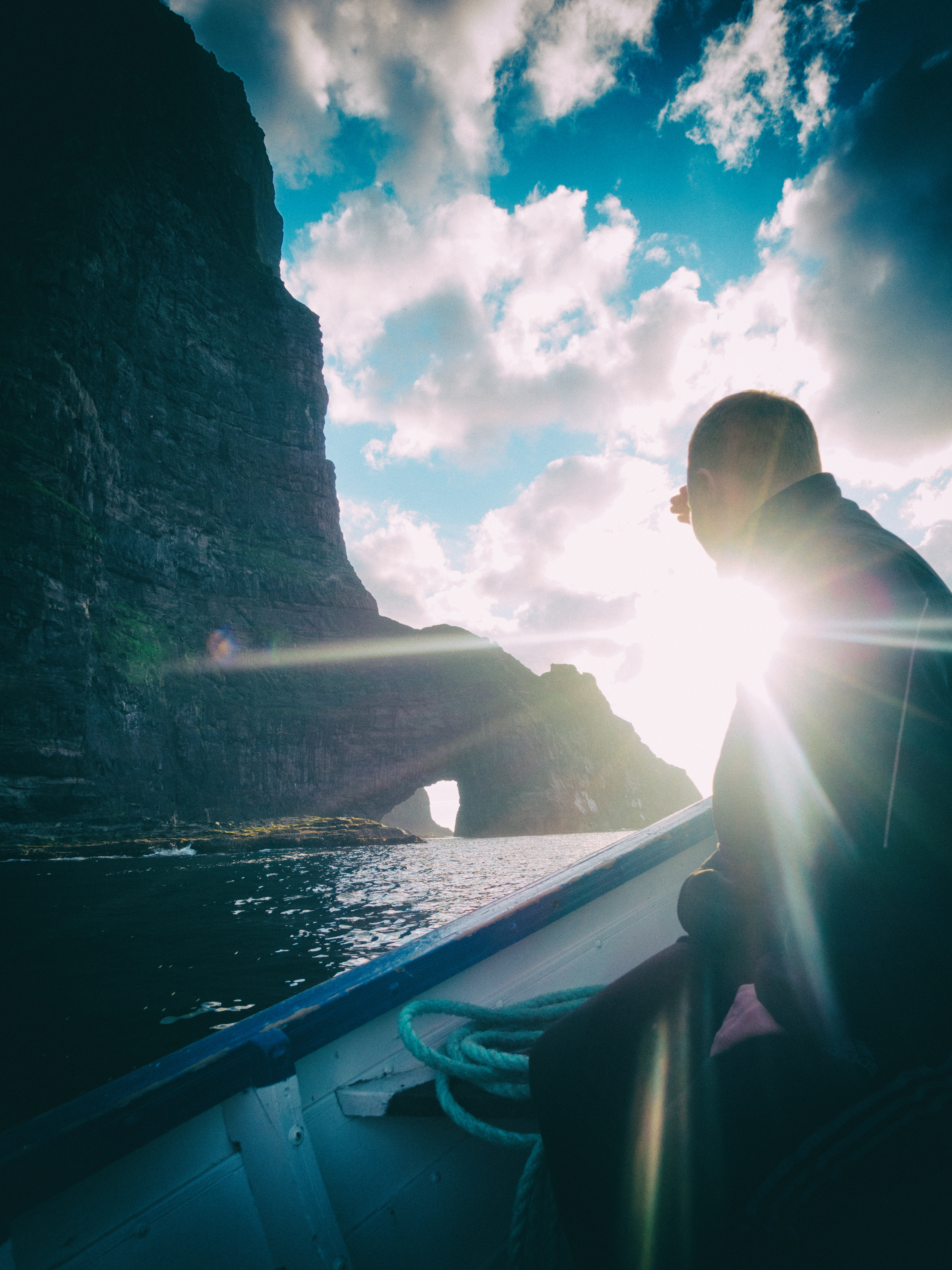 James has been talking about choss climbing for a year now. Whenever we drive under a shitty looking cliff, with obviously no climbing developed, he stops, marvels, wonders… while I tell him that he is crazy.
So a few month ago, when he googled "highest sea cliff in the world"… Enniberg came up…
A bit of research showed him that Enniberg was an unclimbed cliff on the Faeroe Islands, 500 km north of Scotland. An archipelago who is sort of part of Denmark, and sort of independant …unclimbed for a very good reason, the horrid quality of the rock and the famously wet faeroes weather! Would that stop James? NO it wouldn't, of course, and he even managed to convince our North Face manager (Dave is British too, there is a sort of weird fascination on the queen's islands about climbing on decaying rock… it must have something to do with their very bad sense of humour:)!
So the game was ON!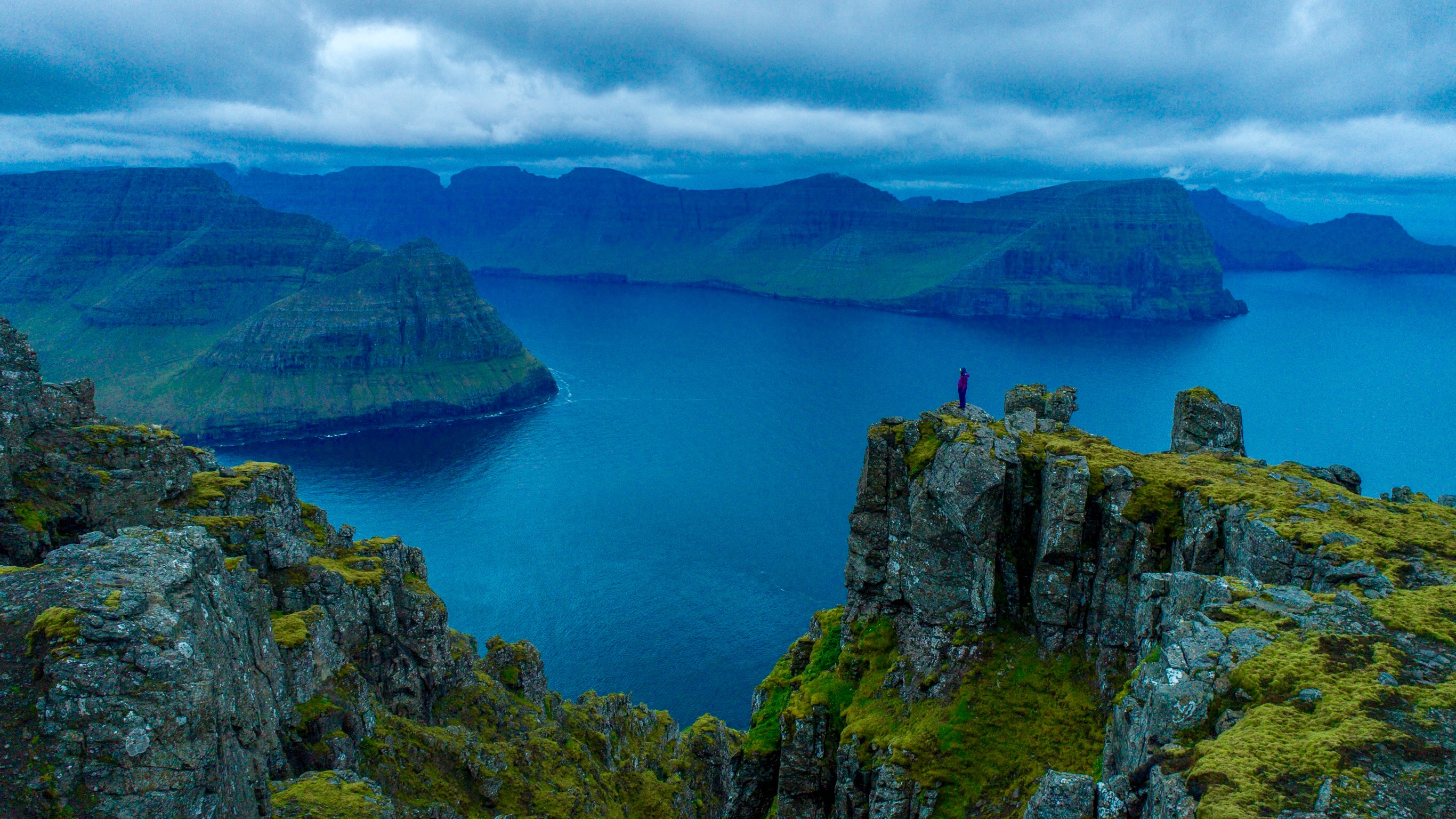 I have never done any choss climbing and would as a result not consider myself as experimented in that domain, so James picked his team on their skills: Cedar Wright, American North Face athlete, movie maker too, and widely recognised by his pairs as "the choss Boss", and Yuji Hirayama, shall I really present Yuji to you? Yuji is our king and hero, and a friend as well, as we go on a trip somewhere with him every year, and it has always been a success and a great time.
The movie maker was going to be Will Lascelles from Colab creative,
and I decided to still come to be a helper, and climb on the smaller objectives that James had for the rest of the trip.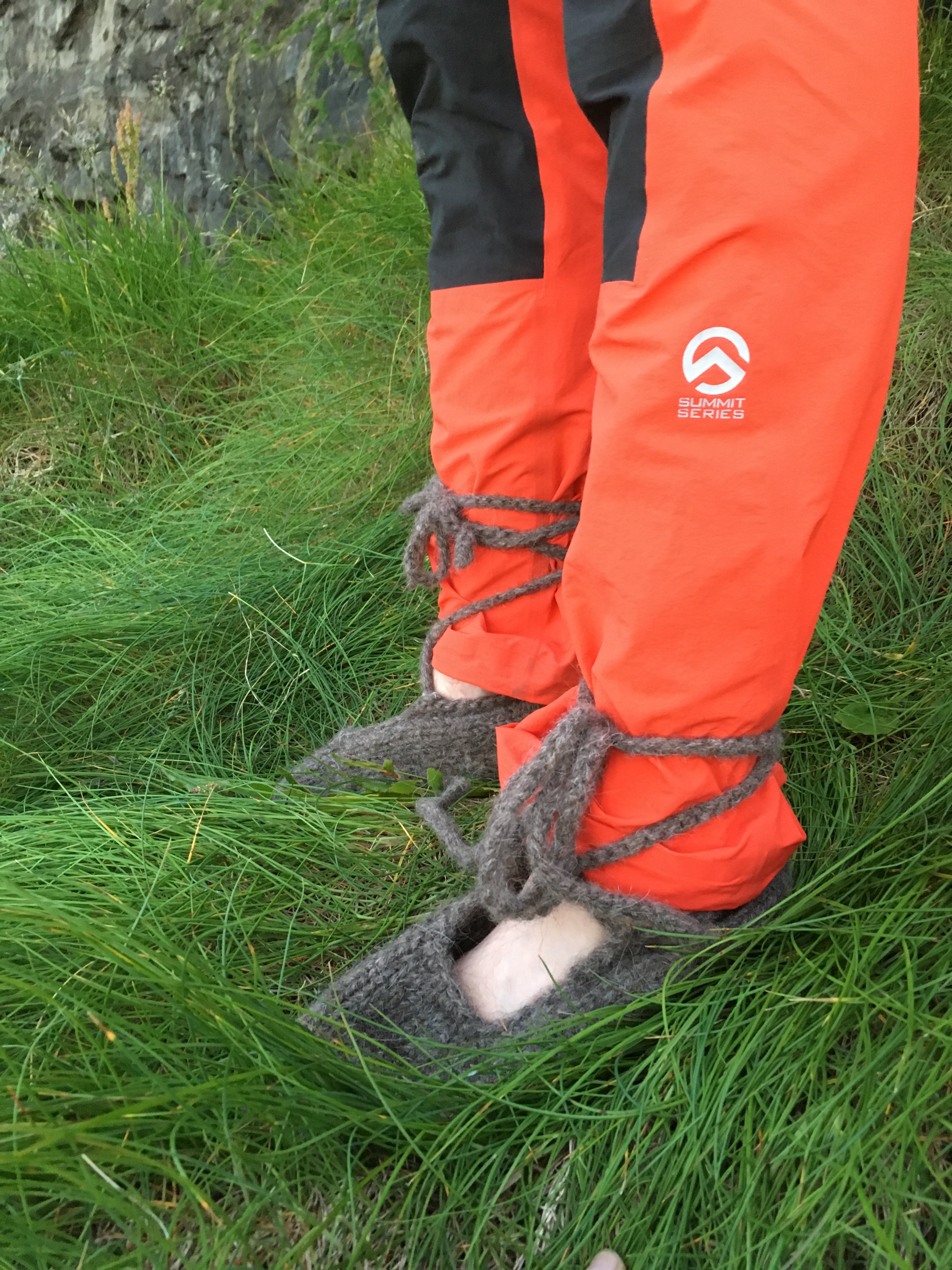 Long story short -and the long story will be written later by James for magazines-, James, Cedar and Yuji started climbing at 10pm, because that was the only time they would be allowed to cross the Puffin nesting area at the base of the cliff.
I accompanied them to the start of the rock, and turning around I had a very real pinch in the heart. I was really worried. Usually I manage to pull James off the most dangerous ideas that he has, but on that one, I knew he really wanted to try Enniberg, he really wanted to play that game, and he was very aware of the danger. Cedar and Yuji were too, and all I had left, was to wait.
For 5 hours, after coming back to the mainland, I waited with no news, they had no signal and walkie talkies wouldn't be able to cross so much rock. It started to rain, and the one hour of total dark at this time of the year came. They had head torches of course.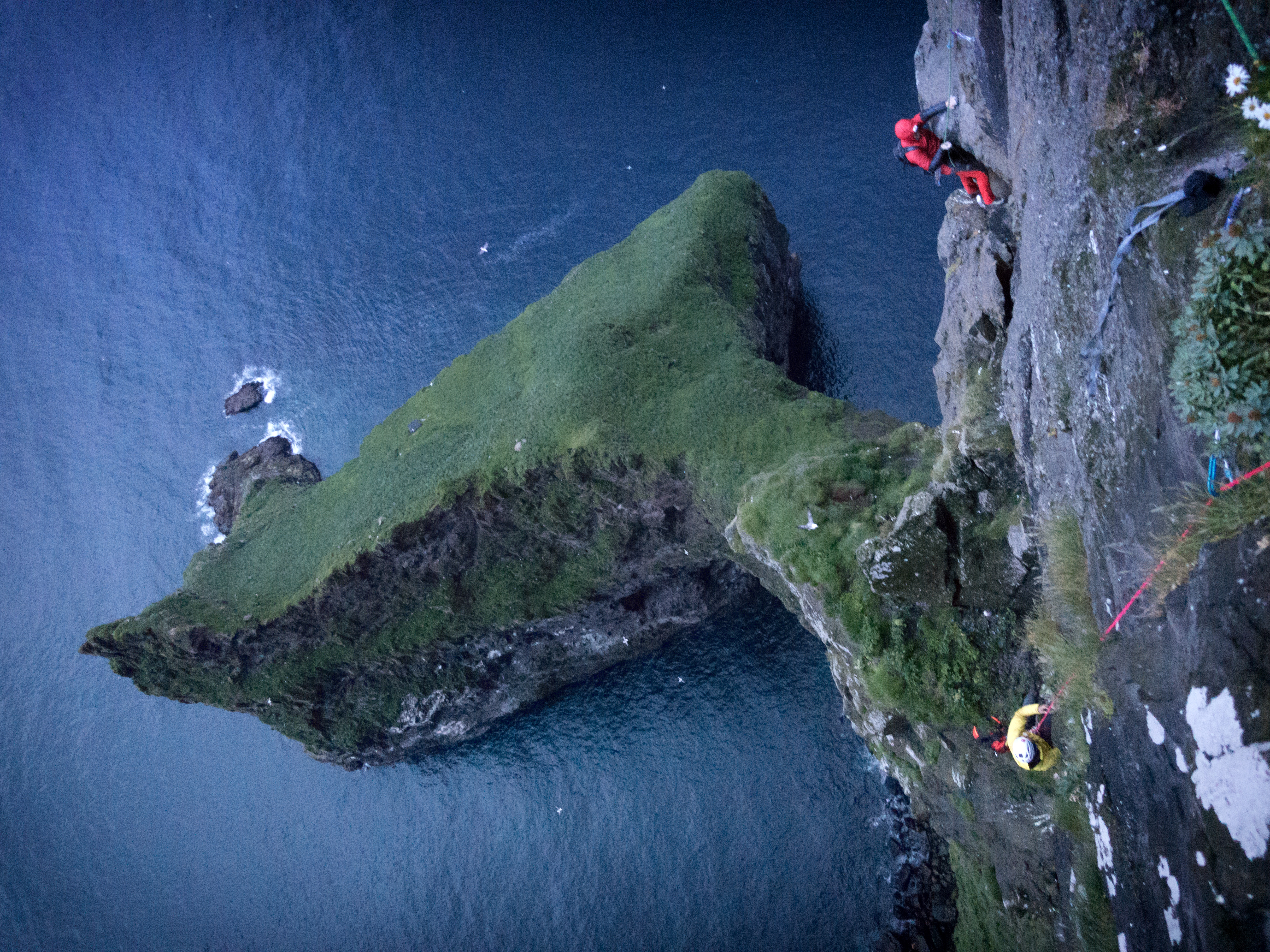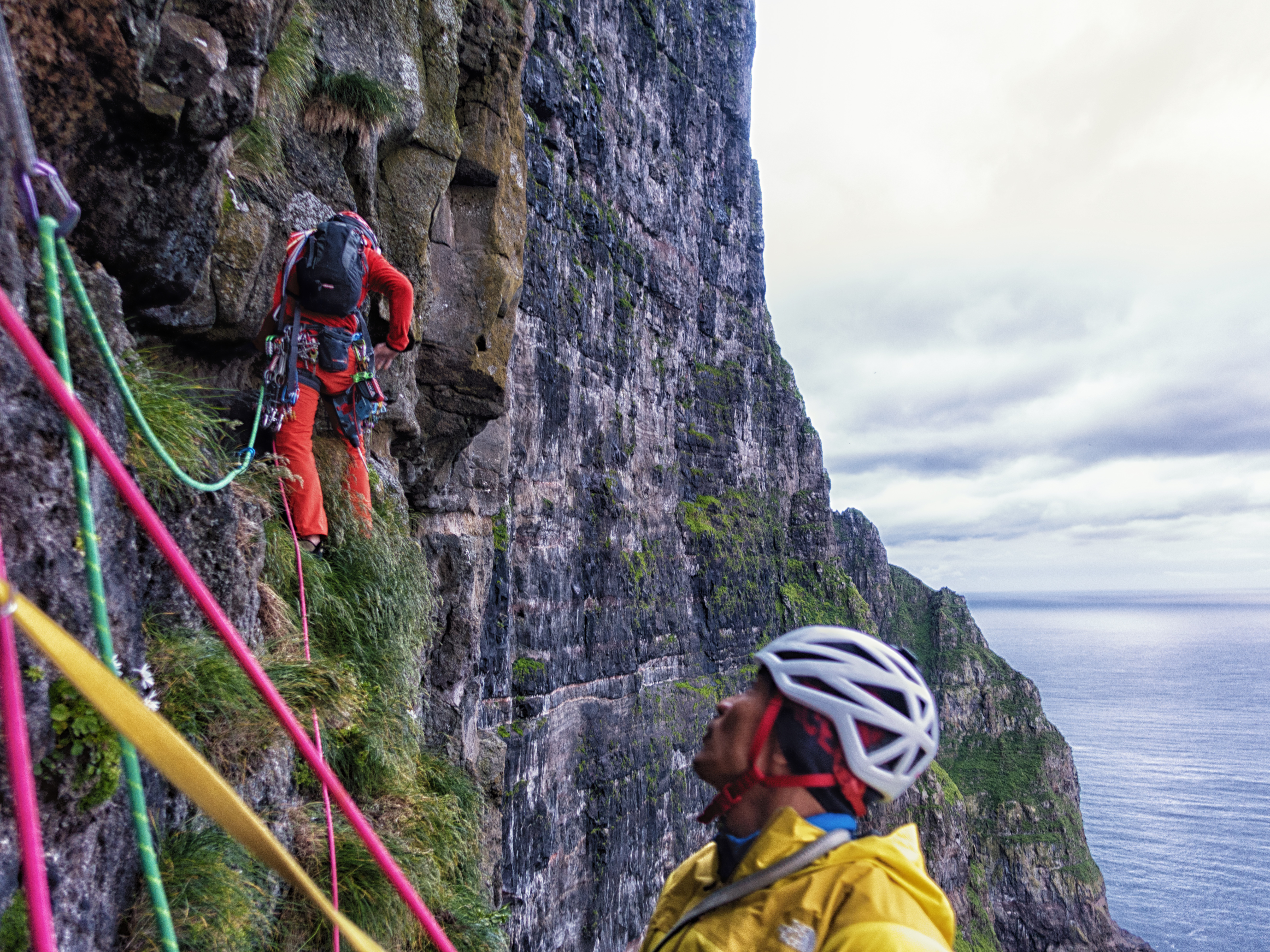 Finally at 6 am, having hiked up the other side of the mountain with Will, I got in contact with them. They were just finishing the last rocky pitches in the rain. It took them 5 more hours to solo up the grassy ledges, up and up…
And finally, at midday, after a 16 hour ascent, they arrived on the summit.
It was a wonderful experience, and a horrible one at the same time.  Maybe what you call "type 2 fun". The 3 boys admitted that they didn't want to do it ever again, but that it was awesome!
And to me…. I am happy it went well.