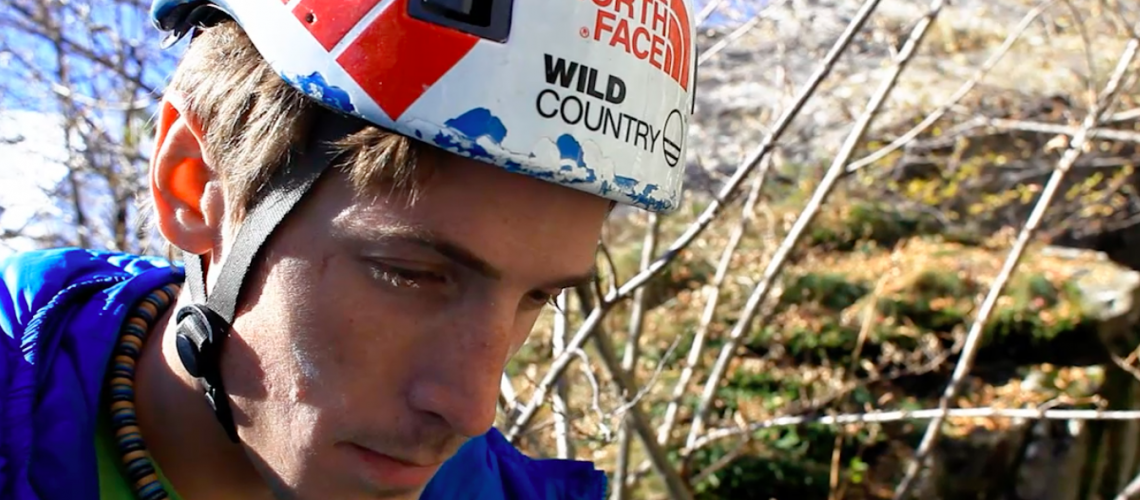 Click on the image to see the video, get links…

Video still from FotoVertical
Last week I had one of the best birthday presents – A ground up ascent of the beautiful E9 trad route from Mauro Calibani, Is Not Always Pasqua!  Ok, to tell the truth I climbed the route one day after my birthday, but since it was raining heavily on the 15th, I think I have a worthy excuse.
I'd been planning to return to try this route since October 2012, when my first ground-up attempts ended prematurely due to a lack of large friends. Yet after my injury in the middle of the year showed little sign of improvement, I had all but given up hope.  We stopped off in Interprete on the way home from Turkey, and on the first day I was able to climb a new hard trad route on the wall just to the left.  My finger was feeling ok, and my level didn't seem too bad, so decided to pay a visit to Is Not Always Pasqua on the final morning of the trip.
Caroline rappelled down the route to clean the holds, and try to find the methods for the 2 distinct crux's.  The problem was she couldn't do either of the two boulders, telling me in as many words that they felt impossible and she really didn't think I could do them!  Well, at least that took away the pressure; I always seem to climb better with an excuse in the bag.
Around an hour later I topped out on the first ground-up ascent of this amazing route.  Long (ok, not really so long) story short, the ascent was one of the biggest fights I have ever had on a trad route, and felt like it could be the hardest trad route I have ever done.  This might sound a little confusing, as on paper I have climbed several routes much harder… but I am understanding more and more that the difficulty of trad routes are defined heavily by the style in which you climb them.
I'll throw together some more words about the route and the day next week, but for now, here is a short video from Wild Country of Is Not Always Pasqua, shot and edited by Francisco Taranto Jr and the FotoVertical team.

Video still from FotoVertical
A big thanks must go to Mauro Calibani and Cristian Brenna, for showing me the way.

Video still from FotoVertical