Click on the image to access video,location, and more infos…
Driving into Bafa Golu has to be one of the most impressive sights I have seen – giant granite boulders stretch as far as the eye can see, covering the mountainside completely from summit to shore.  Bafa Golu, or Lake, was once an important trading port for the Heraklion Empire, but around 250 bc giant silt deposits closed off the lake leaving Bafa completely land locked, killing all trade to make Bafa only the difficult home of a few poor shepherds!  Nowadays it is a quiet corner of turkey, with olives and bees the main source of income, apart from a very small section of shore where tourism has "taken over".  Taken over is perhaps a little too grand of a description.  During our visit we crossed paths with just one other tourist and saw not a trace of a single other climber!
On first appearance, Bafa looks like the Promised Land; an ocean of orange granite eggs dotted with ancient ruins. There looks to be rock to last a lifetime, yet as you begin to explore, you quickly understand the complexity of the landscape and the often frustrating nature of the rock.  The rock is some of the most coarse grained granite I have climbed upon, and the boulders are almost featureless.  What little holds there may be can be sharp and painful, and usually after a short time they break off.
It really is an amazing place for staying and exploring, and there is so much history literally under your feet!  Walking through the boulder fields, and scrambling over 2000 year old walls is a daily business in Bafa. Whats that over there?  A "greek" column propping up a gate! Of course it is!  By following the recently published Bafa Golu Giedebook, you can find the majority of the classic areas and problems without too many problems.  Even though most of the problems are sharp, there are some very good boulders, with unique movements in one of the most splendid settings I have seen.
Luckily, Bafa Lake is not the only bouldering area in this part of the world, and you can easily combine your stay with a visit to these other close by areas of Karahayit and Sakarkaya.  Karahayit Is a tiny area 20 minutes drive from Bafa.  Whilst there are only perhaps 15 problems, the quality of the rock is very good and it makes for an interesting day away from the lake.  Amazingly, just behind the bouldering area are several prehistoric cave paintings, apparently dating from 8,000 Years ago!
The lay of the land in Sakarkaya…
If Karahayit is tiny, Sakarkaya is the opposite.  This barely developed area is on the opposite side of the mountain to Bafa, and is almost 60sq km!  The topo contains one small area close to the village, and in my opinion is the best complete area of Bafa by a long way.  Further along the road, the potential is almost endless!  Giant Orange and White boulders and crags sit between giant ancient pine trees in lush green meadows.  The terrain is much more open than Bafa making exploring a whole lot easier and productive, and the landscape is no less than breathtaking.  We lost our selves for 5 days here, hiking and climbing, living simply and free, but 5 days could easily become 5 months, or 5 years, there is just so much to do!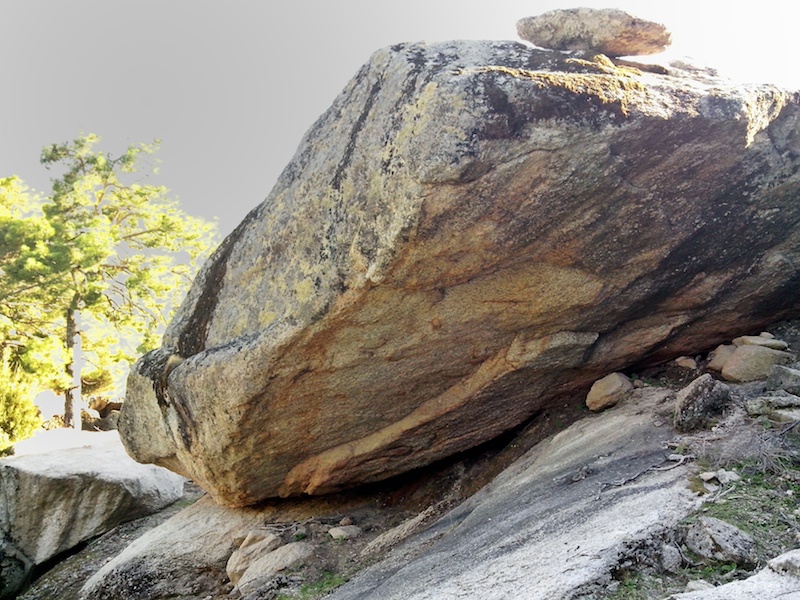 An amazing and hard boulder project in Sakarkaya…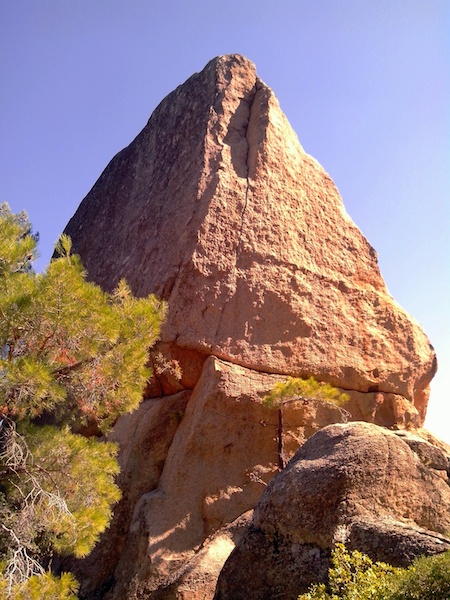 Could this be the Cobra Crack of Turkey?
So on to the big question, would I recommend Bafa Golu as a climbing destination, and would I go back.  Yes, I would – but with the disclaimer that it will not be like a trip to Ticino or Fontainebleau.  Don't come here if you are only interested in pulling hard on perfect rock.  Come here if you want to go climbing in a special place.  Come here if you want to be face to face with such a massive history, to set out day to day, in search of something, not knowing what you will find.  Come here if you want a little adventure.