The idea of SPOT is simple, to give something back to the climbers of the world.  The most obvious direction is with gear – donating used or even new material to climbers who, for various reasons, are not able to buy it for themselves.  But lack of equipment is not the only problem.  Sometimes there are other, more obscure obstacles in the way.
It's so much easier to improve when you have something to aim for or someone to follow.  Knowing that something is possible makes it instantly more achievable.  Breaking new ground all on your own is another thing entirely, and so one of the main reasons for us to come back to the Philippines this year was to help push forwards the development of the sport, by sharing our knowledge and bolting hard new routes for the locals to try.
The first few days were spent 4 hours North of Manila in a mountain town called Baguio.  Baguio is one of the best bouldering areas in the Philippines (and in my opinion, South East Asia), and thanks to its reasonably high altitude, enjoys cooler conditions than most of the other climbing areas.  Caroline has written a little about the place here if anyone is interested in knowing more.
After Baguio it was time to move on to the main event – Cebu.  Miel had told us a lot about this place.  Its home to the most developed collection of Sport climbing in the Philippines, including the countries current hardest route, but there is also a lot of undeveloped rock just waiting to be bolted.  After seeing pictures of a few cliffs we decided to focus our efforts on a place called Mansorella – a very large overhanging wave in the middle of a jungle covered hillside.
Access to the crack by jeepney.
Waiting for us at the airport was a large part of the local rock climbing community, the CRCC, who had organized every detail for the upcoming few weeks, including accommodation, transportation and rest day activities!  On the first day we visited the existing cliff of Cantobaco to climb a little and get a better understanding of the sport climbing in the Philippines.  Again, Caroline has written about this part in more detail here but in short, we found the rock to be very very good, and most of the routes to have been well bolted.  Yuji and I both climbed "Jack Sparrow", the hardest route in the Philippines, and found the grade to be about right. Things were looking good for the upcoming weeks of new development..
The following day we made the first of our real Filipino adventures, a 4×4 ride through the misty mountains to the new area of Mansorella. After barely making it up the broken dirt road, made incredibly slippery with the recent rain, we set camp on a hillside over looking the valley and started the rather overwhelming job of bolting the cliff.  The crag is rather high, at least 60 meters, and is effectively split into 3 different parts. The right hand side is 2 steep walls split by a slabby ledge, the middle is a series of imposing overhanging corners, with a lot of suspect looking rock, and the left is bigger still, with several impressive prows, as well as some long and steep black and white striped walls. Unfortunately, accessing the top of the cliff is almost impossible due to the dense jungle.  We didn't really know where to begin, and after a little discussion, decided to start with the "easiest" option – opening a short route ground up on the right hand side, which might then give us access to the other parts of the cliff.  Over 3 days we bolted several new lines on the right hand section of the cliff. Caro and I worked away slowly at the upper section, whilst Yuji, Miel, and some of the CRCC added routes to the lower wall. There is now a good selection of routes between 6b and 8a+, with one very hard project that might be in the region of 9a. There are however still loads of lines to bolt, and in fact, the whole left side of the cliff is still untouched… more time, more bolts, more energy…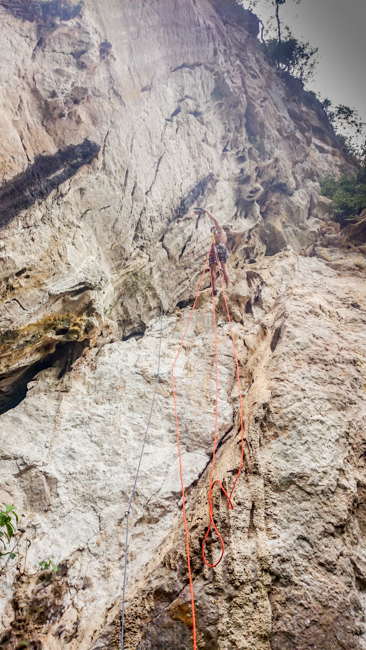 Ground up bolting process: climbing, placing hooks, drilling.
Camping up at Mansorella was quite a bizarre experience. On one hand it is very peaceful, you are in the middle of nowhere, with just a muddy track and a few bamboo huts to link you to civilization. Yet come nightfall, the locals drink themselves into oblivion, and start to sing ear splitting karaoke until the early hours of the morning. I always find it a little awkward traveling to places like this to "just" go climbing. The contents of our backpacks are probably worth more than the entire village, and I start to ask myself what does it all mean.  What kind of life do they lead?  What's the purpose of it all? Is it fair for us to have so much more? Maybe they are really the ones living in bliss – maybe we just over complicate everything? Too many question swirl round my head. I lay awake and think.  Somewhere in the darkness a Cat is howling, or is it a terrifying rendition of "My Heart Will Go On"!
On the third day Caro and I borrow a motorbike to drive down to the river to wash.  We'd be told of a small, steep cliff that might have a few routes, and decide its worth checking out.  We slip and slide our way down the muddy track and by some miracle make it in one piece.  The river is oh so good, such a welcome change from the unrelenting sweaty, sticky sun that we almost forget about the reason for our journey.  An amazing steep wall comes into view within 5 minutes walk.  45 degrees overhanging, 30 meters high, and covered in big tufas.  It looks perfect, and I cant believe how something this good, this easy to access has not been bolted!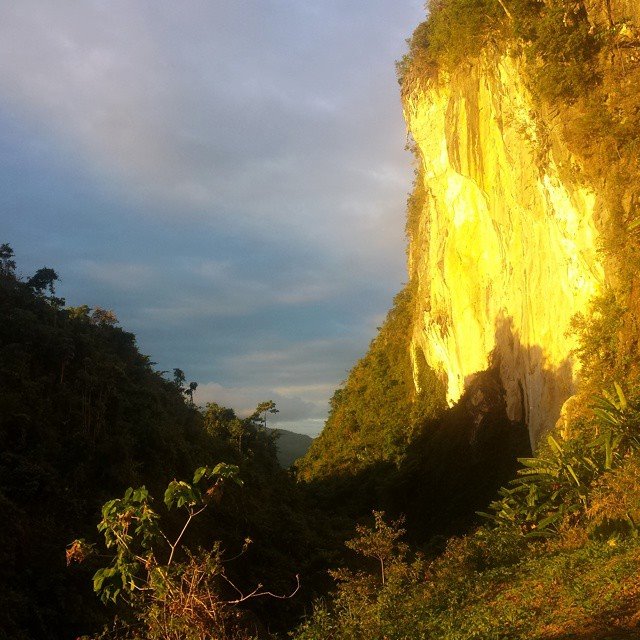 First light on mansorela wall.
After a truly awesome rest day birthday for Miel on a near-by Cebu city beach, we return to Mansorella to start work on the new cliff.  After chatting with locals, Caroline and Miel will try to find the track through the jungle to the top of the cliff, whilst Yuji and I will start to open a route from the ground.  Its actually the first time that Yuji is really bolting from Skyhooks, and he does really well.  He finishes his route in a couple of hours and arrives at the top of an amazing steep white wall. After installing a couple of fixed lines, I join him on the top and we start the main work of the day.
Eventually we hear Caro and Miel start to come down from the top of the cliff.  Their drill starts to turn, they must be making a belay, but a few seconds later we hear a cry, and then we see them both quickly abseiling down.  It turns out that they disturbed a nest of snakes who started to come out of their hole!  By the time they could start to rap down, there were 3 brightly colored snakes wriggling along the ledge next to them!  Aaaahhhhhhhhhhhrrrrrrggghhhhhhh!
Snakes are something we don't really have to worry about in Europe, and so perhaps we are guilty of being ignorant to the dangers they pose.  We asked some of the locals from the village if they though the snakes were poisonous, and very matter-of-factly received the reply – better not to get bitten!  Unfortunately for these guys, The Philippines is a 3rd world country, and health care leaves a lot to be desired.  Even for the richest of the rich, helicopter rescue is often not an option, and the correct anti-venom is simply too far away.  As a local villager, If you are bitten, you are going to die!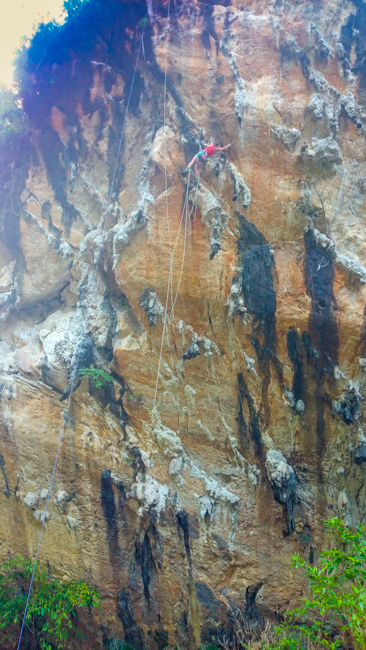 Lassoing the tuffs to bolt… ho, there is a snake under Caro…
This was not an isolated incident, and over the next 2 days we'd fall on 6 snakes, 4 of them highly poisonous, in several different places on the cliff.  Yuji and I had managed to finish off bolting our respective lines, but it was surely more through luck than judgment.  Miel and Caro had not been as lucky, and were still trying to find a snake free way up or down the wall!  This whole thing was quite shocking for us, and I've considered pulling the plug on a few occasions – bolting new lines is just not worth dying for – but apparently its something quite normal in the Philippines!  Not the dying part, but its quite normal to find snakes on a new cliff, and then to have them leave as the development continues and more people climb there.  I'd like to believe this is true, but I'm not sure I can trust myself to probablys" and "maybees".  Sticking my hand into a dark hole, and hoping that the snakes have not come back is maybe a step too far?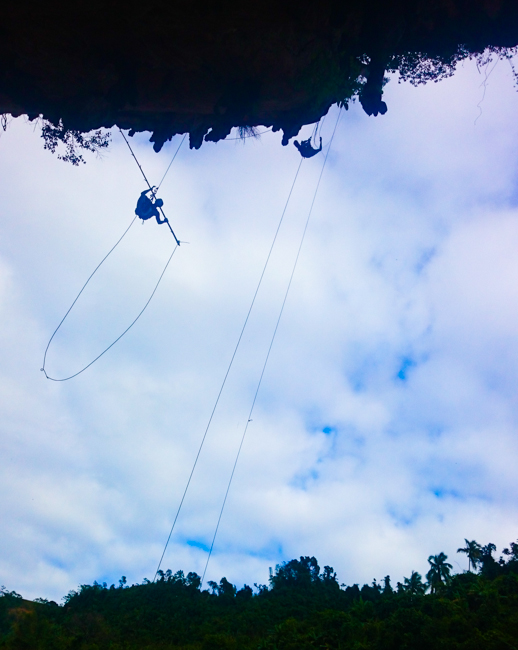 Patrick, a local climber, chasing the snakes by smoking them with a bamboo stick and some fire
Anyway, as I said before, Yuji and I had both finished bolting our lines and had begun to try the moves.   The two lines are very close to each other, but couldn't be more different, mainly due to the enormous tufa that splits Yuji's route at ½ height offering a very good rest.  Both routes are, to be rather arrogant, very good, with complex sequences of interesting moves, on great rock and comfortable holds.  They are also both very hard, and will be great projects for the local climbers to work on in the future.  Yuji got very close to sending his line on his final day, but couldn't quite make it.  He seems to think it will go around 8c+, but of course time will tell.  My line is probably a little harder still, as it has sections of a similar difficulty but with no rest, but I cant be sure as I haven't tried to redpoint it yet.  Hopefully I'll get a chance to try them more over the upcoming days with Miel, but first things first… rest well and recover from this damn flu that a certain photographer brought all the way from France! (http://www.connexionfrance.com/france-flu-epidemic-influenze-two-million-600000-new-cases-hospitals-emergency-department-pressure-16667-view-article.html)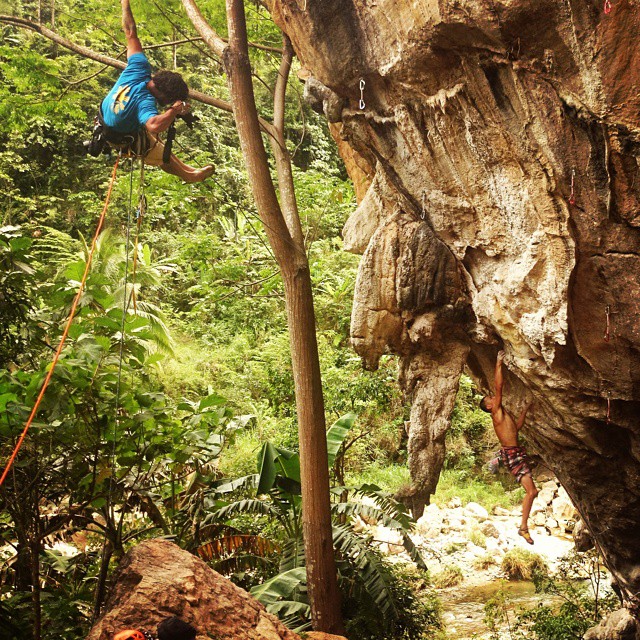 Francisco and Yuji.