The sun is setting, we have just dropped back into the plain, off the mountain road that brings to Baguio city. Baguio and its 300 000 habitants is the coolest place around Manilla because of the altitude, and since a few years the local climbers have started to develop bouldering areas. Capitole is where they started, just next to the city, a river bed with huge conglomerate boulders. I have to admit that when we first arrived, what stroked me the most was the dirtiness of the place. It is a river bed below a 3world country city, after all, and a lot of trash simply gets evacuated in the river. Then typhoons flood periodically the river bed, leaving stands of torn cloths, tyres…
It is dirty indeed, and there isn't much to do to improve that, as as soon as the next typhoon will come, all the trash will be back.

But … 7 m high boulders, with pockets, arêtes, roofs to stabs! There is so much to open, such a density of climbable rock, that even only 15 metres from the arriving path we could still find new lines, from 3 move boulders to long endurance ones.
James has found a long project in a roof, it won't be very far from 8a. You start below the boulder, in the cavities that water keeps empty when it floods. And you fight your way to the light on pockets, big movements. A bit of a dip in the landing zone? Oh, here is a big tyre we can move to fill it, that will do just fine!
There is a lot of climbing, and a lot of good climbing. It isn't too sharp, it's varied, it's great.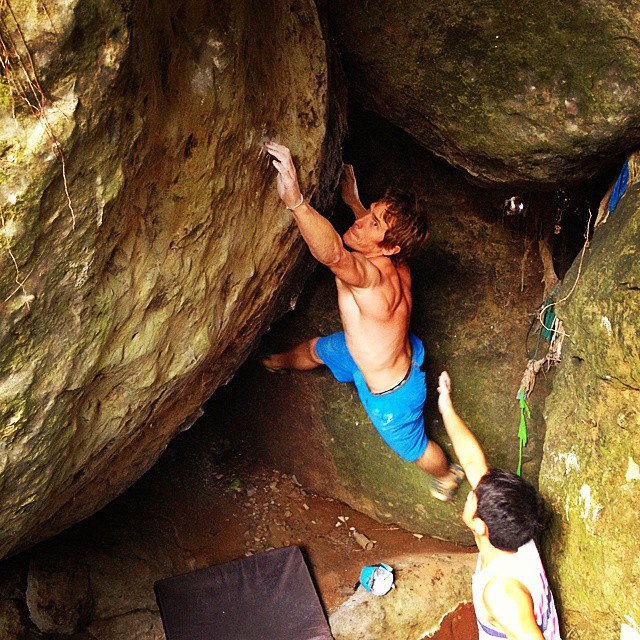 A new boulder in Baguio in capitole
 Conglomerate boulders in the river bed…good stuff ! 
But the real reason of us coming back after last year, is the climbing scene. The « Baguio Boys » go out every weekend. Since a few years they don't have a gym at all anymore, the only one in the city has been closed, it wasn't making enough money. So they have turned even more their attention onto the rock. And they play. It is impressive to see the level they have reached by them self, with no training facility, nearly no exterior influence. They watch climbing videos. That is how they learn the tricks.
They don't have enough pads, and their climbing shoes aren't always the right size, but god they are strong!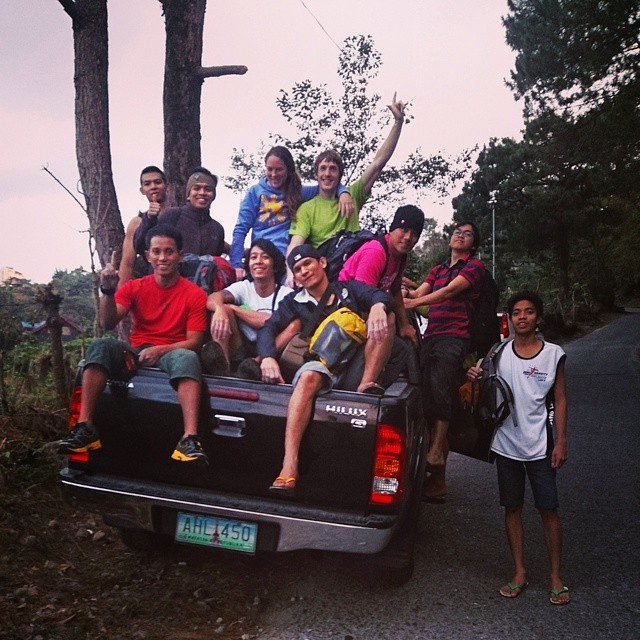 Their motivation has inspired us. To come back to see them again, to bring they some materiel. For now, it will be 4 crash pads and a few climbing shoes. I hope much more, maybe ropes, harnesses so they can try the really high boulders…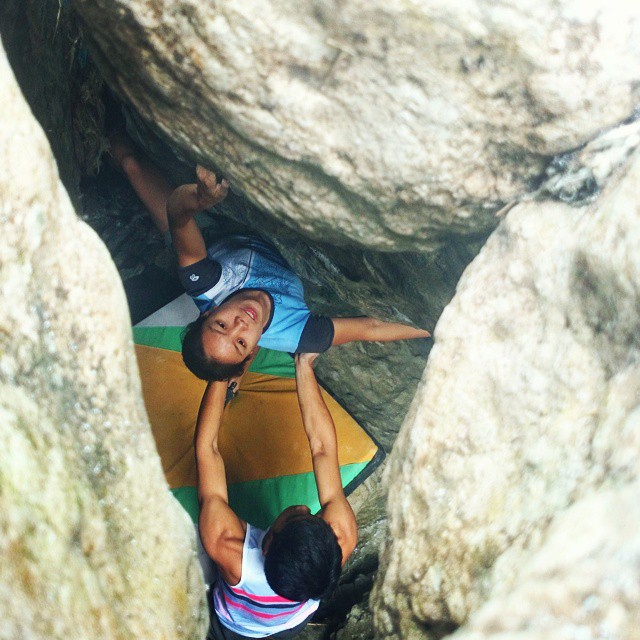 Boulders in the tunnels below the huge boulders of baguio. Ina Pahati on a long traverse, 7something…
It is the second time that we come, and they treat us like friends, nearly family. A lot of climbers have come specially to meet us, we are a group of 40, some of them have even flown from an other island for the occasion. In Philippines, English is the national language with Tagalo, and that makes a huge difference. We have entered their world. We sit all together at the bonfire in front of Boybi's house after climbing, and they make us taste "Isaw" (chicken's intestine skewers), strawberry wine. Gerwin cooked a spicy corn beef specially for me… I love these people. They are just… nice. So completely nice.
Amazing beginning of this trip…. Can't wait to see some more!
You can find more pics about the SPOT Filipino Climbers project on spot.climbers-without-borders.org