Finally !!!!
January was always going to be focused on
-preparing our Philippine trip
-ticking a bit of sport routes.
The Philippines preparation, (our SPOT project) has gone better than planed, as we have more materiel to send than we will be able to bring ourselves, even with the 2 extra luggage :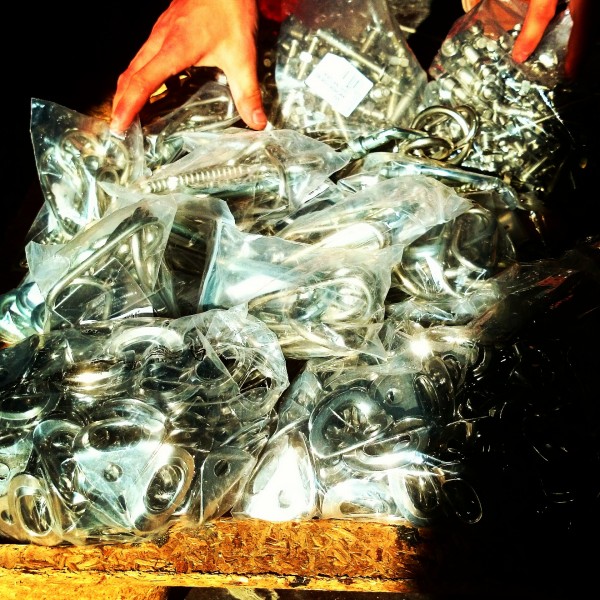 -4 crash pads,
-250 bolts
– 20 belays
-2 drills,
-20 pairs of climbing shoes
-15 harnesses
-loads of chalk bags
-ropes
…
and we have succeeded to collect over 1500 E, that we will be able to use to buy and send more crash pads, bolts…
Not that much, but still, more than we had dared hope for our first action with SPOT.
I have to thank everyone already, I am always quite impressed when I see people ready to send their climbing shoes, which mean cleaning them, packing them, paying the postal fees…. to give a hand to climbers from other countries via our new SPOT project. I have one thing to say: some little gestures are simply classy.
Anyway, we leave on Tuesday, and I was getting quite nervous for my other focus… I had had my eyes on « Mythomanie Compulsive », 8B+, while James had gone for « Les Grandes Bouches du Rhône », 8c/+, both in Seynes.
Les « grandes bouches du Rhône » is quite a funny thing for James, more because of the name : for anyone who isn't French, I have to explain that it's a play on word , insinuating that people from « Les Bouches du Rhône », the county next to where is Seynes (the « Gard ») have a big mouth (une « grande bouche »). OK maybe it's not that special a name, but James understanding it was a new step in his discovery of the French language, and the french climbers too…. Don't worry little James, there is a bit of nasty buisness in any climbers comunity… and it's what makes things funny, as long as you are not the target, of course…
James did his little project on his first redpoint attempt, and I nearly did the same… except that I didn't, falling on my own project at the very last mouvement. Which would have been ok if I had done it the next try… but no… it took me 9 tries in total, to finally sticky this weird little dyno. I have to admit it was getting very mental. "Mythomanie compulsive" is quite far away from my usual style, with a field of crimps, something that I normally avoid. But then, later in the year I will have a project that will involve tons of crimps, so I thought jumping at the game wouldn't be a bad thing…. Ho my god little holds are difficult. Just place you body slightly differently…. and it won't work.
I hated it…. And loved it. I even had to reopen my competition notebook to re-find my old anti panic tactics… And guess what it was about :
« let the thoughts pass, they are thoughts, they aren't you. Just focus on the movement, more is not necessary ».
Simple…
The low crux of Mythomanie compulsive -pic by Sam Brown