Interview of Marion Poitevin, a moutain guide and a mum

by Claudia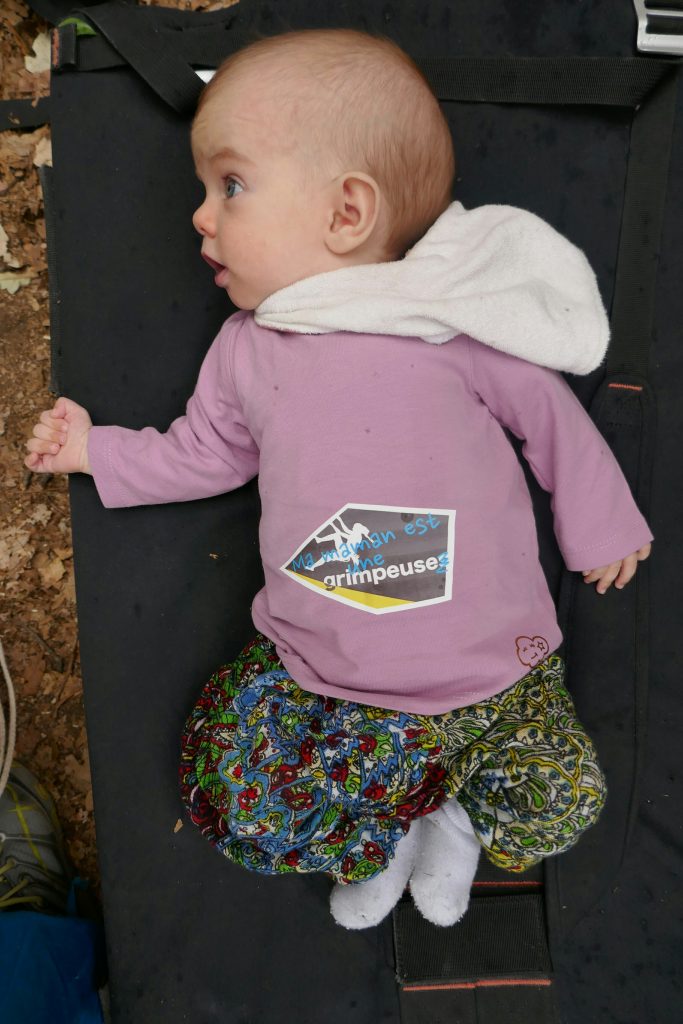 Hello Marion, we are really proud to have you here with us talking about climbing, or better mountaineering, and parenting! You have had a little baby recently and we have read on Facebook that you have been stopping ten months from your work and three months from doing sport activities. How has been physically and mentally your coming back to mountaineering?
I have not been mountaineering yet, but I went climbing, hiking and skiing but no alpinism. It takes much more time and I haven't spent a night without my 5.5 month baby yet.
As regard for the fitness, it came back really quickly after I stopped breastfeeding, that has been exhausting to me. It is obviously a different experience for each woman.
Mentally I was over motivated! My first ski tour was only two hours long with horrible weather and bad snow; I also fell twice on the way down, I was out of breath but it felt so good to be outside playing! My 2nd climbing day I joined Caroline and James at the crag: a top rope was ready in a 7b, which is my maximum level on sight. I was breastfeeding all day and the breaks were short. Despite absolutely no warm up, I climbed the 7b. The baby was crying but I really wanted to climb that route too, so I rushed to the top. My arms were dead for the rest of the day!
And what has been the best part of being forced to slow down for a period?
Well… I didn't find any advantage to slow down for months and spend so much time in my coach.
You work in the CRS Team, dealing with Mountain Rescue: has maternity changed something in your approach to this job, or do you think that depending on your job, you have to manage family and work routine differently (I mean office and Mountain Rescue)?
When I arrived, a collegue kindly asked me if I found a nanny who could also take care of baby during my working nights: I don't think he ever asked a man about that.
My superior kindly asked me if it was ok for me to leave baby for a few days and do my job as a mountain rescuer. According to him, women have more difficulties to leave their baby, they are more attached to it. I told him that baby and I are ready, that it is part of my job. Again, I don't think he ever asked that to a man.
You have always been really active by promoting gender equalities in mountain related activities: has your baby given something extra to this kind of activity?
The baby helped me to discover even more gender inequalities: part-time job for women, family career choices.
Do you think that men and women equally share the mental burden of conciliating the outdoor climbing days with the well-being of a kid at the crag?
The dad doesn't climb. I get to train enough during my working days, that is also why I choose this job, to make sure I could keep climbing even with a baby. So we don't experience cragging with baby and anyway around me I didn't experience so many families at the crag.
Thanks Marion! We can follow your job activities and news about the climbing meetings where you talk about Women and Mountaneering on your Facebook page, and in the meanwhile we can enjoy as well the beautiful land